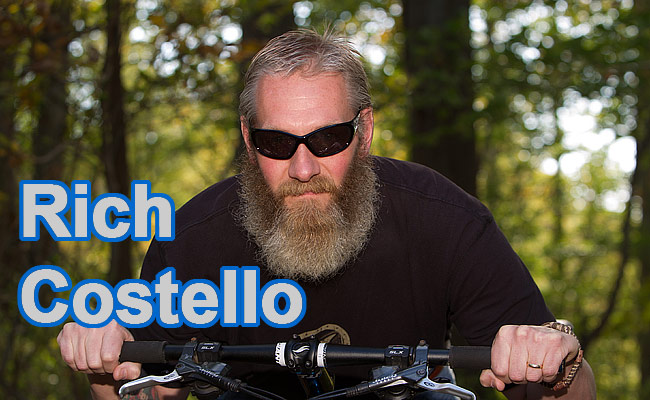 Racing bearded, Rich's style.
This is not your everyday beard.
Beards.org is proud to present accomplished athlete Richard Costello in our featured beards section. Rich tells us that his participation in the off-road triathlon scene is his second athletic go-around. After putting in his time as a 352-pound Professional Scottish Highland Games athlete/strongman competitor, Rich decided to re-focus his athletic skills in a different direction, one that is comprised of the challenging cardiovascular events of rough, open water swimming, mountain biking, and trail running. Steady improvement and personal success worldwide at various competitions led Rich to become an ambassador for the XTERRA organization. In this role, Rich speaks of and promotes the healthy active outdoor "Live More" lifestyle.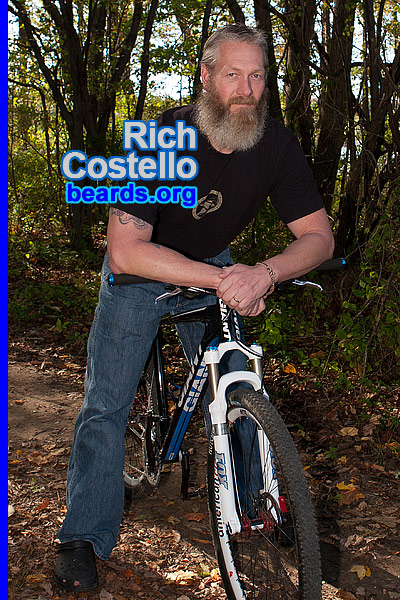 When he's not dashing around the globe demonstrating his athletic prowess and causing a stir with his now-famous "unruly and untrimmed" beard, Rich works in an Emergency Room as an ER Tech. He also volunteers for the American Red Cross as an instructor, teaching the life-saving skills of CPR/AED and first aid to professional rescuers and lay persons alike. In addition, he is
something of a beard advocate, inspiring others to grow those manly beards! You can follow Rich's adventures on his blog: LongTrailAhead.
Be sure to visit Rich's photo album.
The photos on this page and in Rich's photo album are by Jacqueline Gumbert Photography and are used with permission. All photos are subject to the site's conditions of use.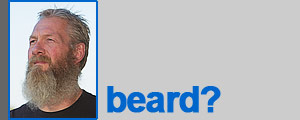 What do you think of beards?

To me a beard represents manhood. There just comes a time in your life where you cross that threshold from being a youth, to becoming a man. A worthy growth of beard signals just that.
Why do you grow your beard now?

It just kind of unfolded and happened this way.

Did anyone in your family have a beard before you?

I remember as a child that one of my father's brothers sported a bushy beard, never forgot that. As for my own father, he was always clean shaven but with sideburns. He did try many years later to grow a beard when I was a young adult. But he didn't make it too far past the scruffy stage before shaving it off.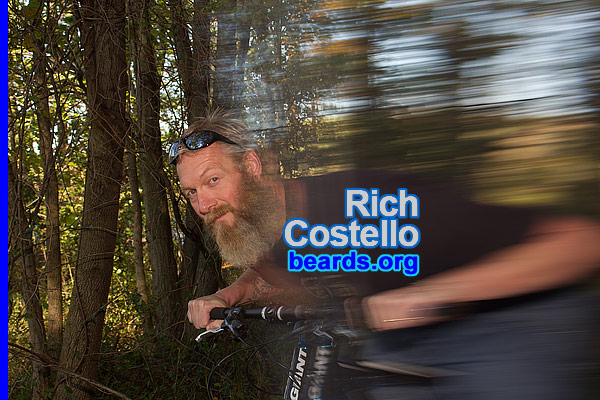 Do you remember from childhood ever wanting to have a beard when you grew up?

Absolutely yes I do! As a small child, I was heavily influenced by the 3 B's — bulldozers, bicycles, and beards! I remember growing up in the early '70s and being intrigued by men sporting big bushy beards. There is no doubt the influence on me of growing a full beard one day started way back then, for sure.

What led to your decision to grow your current beard?

It was an off-season wintertime project that snowballed well into spring. Before I knew it, I was already approaching six months of growth and figured, hey, why not just let it go and see what I can really do length-wise in the course of one full year.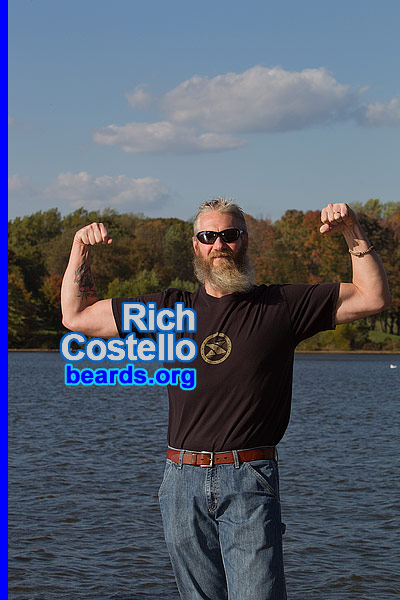 Is this the first time you have grown a beard?

No, but one of this stature…yes!
What were your previous beard-growing experiences like?

I've sported a chin curtain in the past quite a few times. I have had many styles and variations of goatees ever since I've been able to grow facial hair. I also went through a phase where I had a sweet little soul patch, too, a couple of years back.
What happened to those previous beards?

They all ended up getting shaved off sooner or later.
What is different about growing a beard this time?

Well it's the first time I decided to just let it go: no cutting or trimming, basically a real unruly and untrimmed one.
How long have you been growing this beard?

The total amount of time invested for the news-making beard dubbed "unruly and untrimmed," lasted for twelve months and one day.
How long are you letting your full beard grow?

The "Shave it!" or "Save it!" Campaign benefitting the
Challenged Athletes Foundation that took place at the end of October of 2010 in Hawaii took care of that. The "Save it!" side lost.

How do you feel about your current beard?

No matter what I am sporting, I love it.
You have a full beard now. Is that your preferred beard style?

The only other full beard I've ever had with some sort of growth, was a chin curtain. It is my favorite style out of all the beards. It is very manly, yet still offers up the clean-face appearance due to the lack of mustache hair.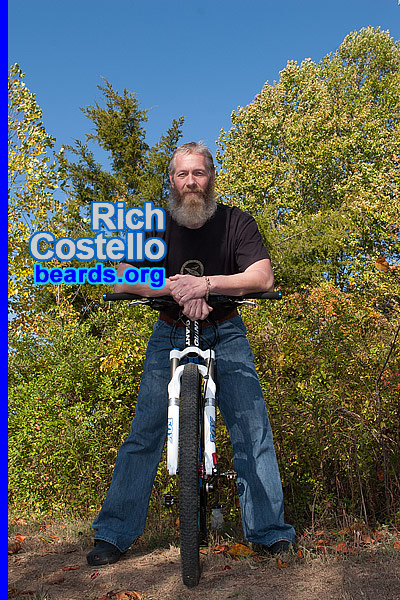 Why go for such a big beard?

Once you really start, you just can't stop. As time goes by, the months and length really begin to add up. It just seems natural to see how long it can really grow.
Has the beard had any impact on your racing performance?

The beard has had no impact whatsoever on performance. And actually in the world of off road triathlons, it fit in very well! The rough and rugged outdoor nature of the sport was no doubt enhanced greatly with the appearance of my unruly and untrimmed beard at many a race on the 2010 XTERRA U.S. Point Series Tour.
How did you become such an irrepressible and fierce beard advocate?

I guess simply having a fondness and finally committing to growing a worthy beard, brought it out of me naturally. Plus, it's really a cool tribe to be part of worldwide. Ask any man that sports a notable beard and I'm sure he will say something just the same.
Has your beard generated any reaction from others? What's that been like?

Endlessly, both pro and con! The mere sight of it was so powerful or it touched a raw nerve in people so much so that they would have to tell me how they felt about it — even total strangers. The growth of the unruly and untrimmed beard actually elicited more response than any other thing that I have done in my life, even moreso than some of my impressive athletic accomplishments
that I am so very proud of.
What would you say to those who dislike or are intolerant of beards?

That's okay. You can't please everyone. You just have to please yourself. I think that is a song lyric from a Ricky Nelson song titled "Garden Party".
Would you say that you are now a "dedicated, permanent beard grower"?

I would certainly place myself in the permanent grower category without a doubt since I always seem to have some type of facial-hair growth going on.
Your beard has gotten a lot of publicity. How do you feel about that?

I think it is most wonderful and awesome that the simple act of growing facial hair has created such a ruckus. It is something that men all over the world do everyday without notice. But in my individual case, it certainly drew a lot of attention, for sure.
Do you take a lot of pride in your beard?

The more it grew, the more majestic it appeared. Constant daily care in cleansing and combing is/was part of the process. A healthy beard is a happy beard, I'd say.
Has your beard boosted your self-confidence?

I would say that they both equally benefitted from each other in this matter. One complemented the other, you could kind of say.
What do you like best about your beard?

I guess I would say the new-found personal awareness I have developed from, and through, its growing process.
Do you have any complaints about your beard?

None whatsoever.
What have you learned from your beard-growing experiences?

Wow, you would be amazed. I have thought about this specific topic so many times that, I plan on writing some sort of essay regarding it in the near future. I'll have to keep you posted on this.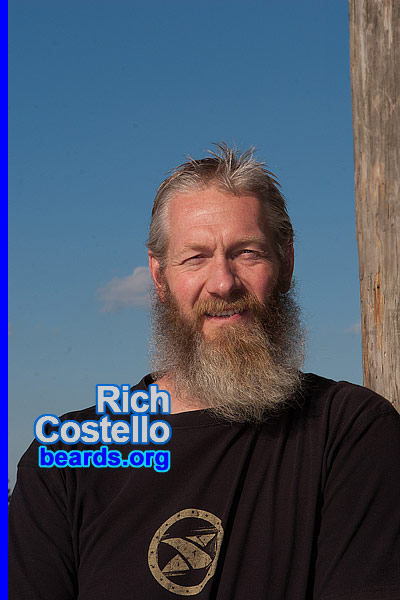 What was the "Shave it!" or "Save it!" Campaign?

"Shave it!" or "Save it!" was a fundraising campaign that took place at the XTERRA World Championship Race that was held in Maui, Hawaii, in October of 2010. The event, run in conjunction with Paul Mitchell Hair Systems, was to raise monies benefiting the Challenged Athletes Foundation (CAF). Basically, people could donate money on either side, with all funds going directly to CAF. In the end, whichever side had the most donations…well, from there it's pretty self explanatory.
How did you feel when the "Save it!" side lost?

I knew going into the "Shave it!" or "Save it!" event that there was a strong possibility that I could end up having my beard saved by those who wanted to see it stay. I felt quite positive that I would end up being victorious when all was said and done…keeping the beard that is. But overall, I was resigned to whatever my beard's fate would be. The overall cause of raising awareness and funds for the Challenged Athletes Foundation was the most important and main objective here. Sadly, as you now know, the beard ended up coming off. But as a result, nearly $5000.00 dollars were raised — a new all-time level achieved financially for this event at this specific location. How amazing it was that this popular and newsworthy event generated so much interest in such a short period of time. It was unbelievable. I guess that speaks to the power of beards, I'd say!
Describe how the mighty beard met its demise.

In the end, the beard fell in front of the assembled, packed crowd at the hands of two Paul Mitchell Hairstyling Specialists. In mere seconds, twelve months and one day of facial-hair growth was shorn by two hand-held hair trimmers.
What's happening now in the beard-growing department?

Since returning back home, I have allowed my face to become blanketed once again with a full growth of fresh facial hair. As I continue to let nature take its course each and every day, I'll simply resort in the coming wintry months to what all men all over the world of substance and character do best…they grow beards of course!
Would you recommend to other guys that they grow full beards?

One of the main things that I have spoke of since starting this facial hair project, is that every man once in his lifetime, should grow a real man's beard — at the very least, one full year's growth. Essentially it should be an unruly and untrimmed one as well!
What do you think about being featured on beards.org?

Truly honored to say the least. To be included amongst the many photos collected in the galleries, those same galleries that I looked at daily for inspiration while growing, is pretty cool. Maybe someone in this world will be inspired to grow a beard just from looking at and/or reading my story. That really would be awesome!

What do you think of beards.org?

Beards.org is the number one spot for all things considered/goings on in the world of beards…period! I am a complete fan and do my best to direct other individuals daily to this same site. It is a most valuable website and tool for those needing information regarding any, and or all aspects of growing a beard. Once again referencing a famous line, this time a movie quote from the film Highlander: "There Can Be Only One!" Beards.org that is!

Click on the image below to go to Rich's photo album.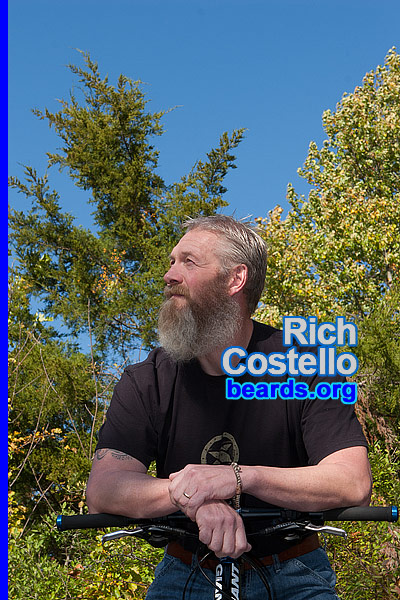 Photos of Rich Costello are by Jacqueline Gumbert Photography.