How to find the right beard style for you
Choosing the best beard style depends primarily on two main factors.
Your facial hair growth pattern. How your facial hair grows: the coverage area and density.
Your personal style preference. What style of beard would you like best for yourself?
Your facial hair growth pattern essentially determines which styles physically are an option for you. If you have broad coverage and good density, pretty much all the style options are available to you. If your coverage areas are more limited, your style options will likely be dictated by the areas where your beard grows best.
In addition to your beard growth pattern and your personal preference for a beard style, other factors may also affect your ultimate choice of beard style. Loved ones may want to exert pressure on you to select a beard style that is more to their liking. Your employer may have facial hair policies with which you must comply if you want to keep your job. All of these and other factors may bear on your beard style decision. However, setting all other considerations aside, your choice of beard style really should come down to what you physically are able to grow and which beard style you like best.
All about beards strongly recommends the full beard for all who are capable of growing a full beard. The reason for this recommendation is because the full beard is the classic "fullest" expression of the male beard. If you can grow the full beard, you should!
If your beard growth pattern does not support the full beard or if it does, but you want to choose another style, just use our beard style guide to help select a beard style that is right for you. Our style guide displays the most common and most widely grown styles of beards. You can even be creative by mixing and matching elements of more than one style or creating your own variations of one of the illustrated beard styles.
Click on a beard style in the chart below for more information.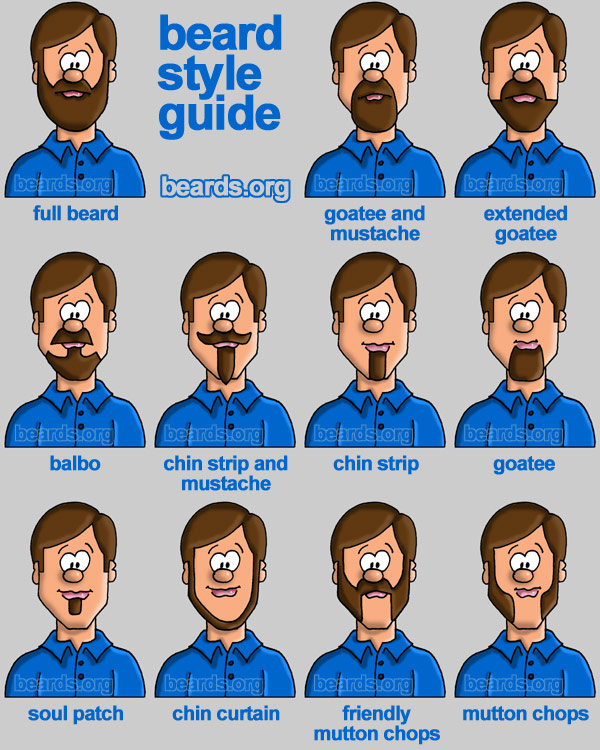 Beard style according to face shape
Which beard style is right for different face shapes? Most beard styles can be made to work with any face shape. If you have a round face, growing your selected beard style longer will help give your face more of an oval appearance. If your face is more of an oval shape, a longer beard may give your face an even longer look. To round out your oval face a bit, keep your beard style shorter. For any type of face shape, a good approach is to go with the style you can grow and like. Then you can experiment with the length and shape of the beard to complement your face shape to your liking.
View real examples of the following beard styles in our gallery
You may also browse real examples of various beard styles in our gallery. Click on an image below to see examples from the gallery.

Also see our beard style sets feature. Click on the image below.

In addition, check out The bearded collegiate for more ideas on beard styles.