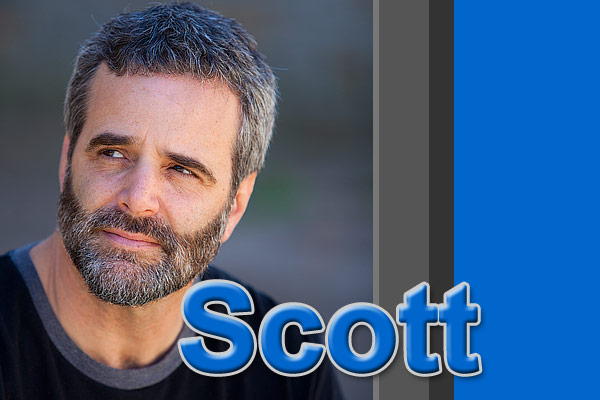 All about beards is pleased and proud to present Scott's beard feature. Rather than do an interview about his beard, Scott chose to write an essay on the subject. He shares with us some thoughts and observations on having experienced more than thirty years of being bearded. Scott has also put a lot of effort into creating his illustrated beard history, which will appear on beards.org in a future update.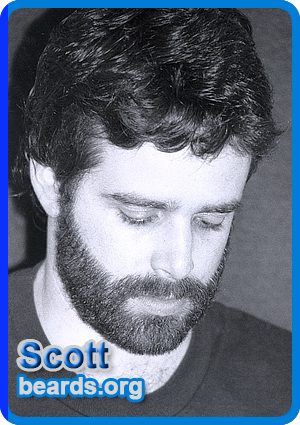 In late August 2010, Scott kindly participated in a photo and video shoot for beards.org. Photos from that shoot are now on display in his new photo album. Scott also starred in beards.org's first beard video to debut on YouTube. He has appeared in additional beards.org videos on YouTube as well.
At the time of Scott's beards.org photo shoot, he was keeping his full beard quite closely cropped. I was a bit surprised to learn that such a seasoned beard grower was hesitant to let his beard grow out any more than that. Subsequently, Scott has let his beard grow out more. And in late-breaking news just before the launch of his beard feature today, Scott sent some current photos (appearing in the cluster of four small photos here) along with this message: "I honestly think you and I can tell site visitors, that having the attention and resulting affirmation from your site and photo shoot encouraged me to grow a fuller beard."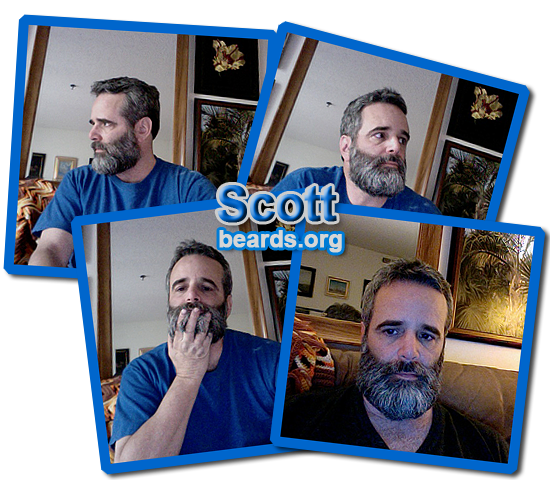 Scroll down to read Scott's essay. Then be sure to visit:
The photos on this page not taken by beards.org were provided by Scott and are used with permission. All photos are subject to the site's conditions of use.

I hope my beard history encourages other men to grow theirs even if just for a few months every year.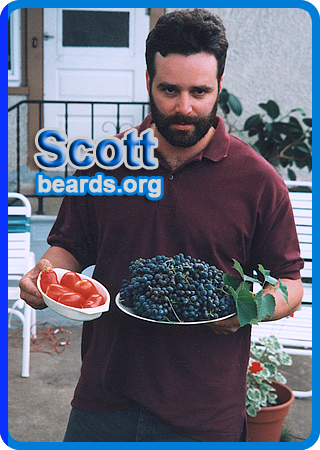 I was born in 1957, the year the first human-made satellite went into orbit, Sputnik. Google it, younger guys! I was twenty when I grew my first beard and have grown one off and on for thirty-four years.
This site, beards.org, is amazing. For the first time in years growing a beard isn't just a mechanical thing. I'm proud to be a man who grows one and the fact that it's full is simply a plus.
Those of you with thinner beards on this site often express a desire to grow thicker ones. Just be proud you can grow one at all and content with the fact that you've chosen to have one.
I had always been envious of guys who could grow facial hair in high school. So I waited until I could grow a beard my sophomore year in college. It came in pretty full and I was immensely proud. It was 1977 and hair lengths were long. Of course I grew my beard to a good length and my family called me "Abe (Lincoln)". Thanks, family.
I was very attached to my outward display of masculinity and kept it for two whole years, a veritable lifetime at that age!
From that point on, my facial hair became a seasonal thing, alternating from mustache to beard. Goatees were uncommon back in those days, as were modern things like cars and planes.
Men and women have complimented me on my beard and its fullness over the years and it's always been nice to hear.
One of my passions is painting in oils and I'm also an amateur art historian. The artists I've loved painted their contemporaries in a time when facial hair was much more common than today. I enjoy looking at art from hundreds of years ago and am always intrigued by the types of beards represented. My beard connects me in some way with men from the past.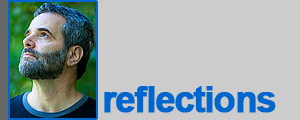 Beards focus attention on one of our best features, our eyes. They visually draw others in and close out the world, much as a frame does a painting.
A beard is also one of those things that can reflect who and what we are inside. Having a beard isn't so much about wearing one as it is about being
an integral part of me, both physical and spiritual.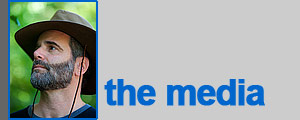 Our society is obsessed with youth, so it should come as no surprise that young as well as older men are reprimanded for being bearded. Many believe it makes them look "older" for their age. So what!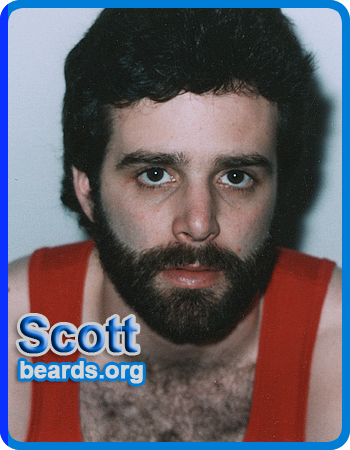 A bearded character is often the "bad guy" in movies or television, or at best, an outcast or someone on the fringe of society. You may want to pay attention to this.
Some people accuse bearded men of hiding from society or even friends as if behind a mask. Sounds plausible; not sure where it started though! There is a chance this was true with me for a few years. Perhaps it was even a positive distancing or "boundary" that was created.
Overall I believe these are unfair judgments of men with facial hair.
These unfair judgments seem to be more common today than in the past.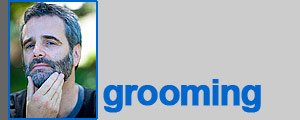 When I shave my beard off, even after awhile, I still feel I'm missing something. However, I do shave it off from time to time to enjoy the change.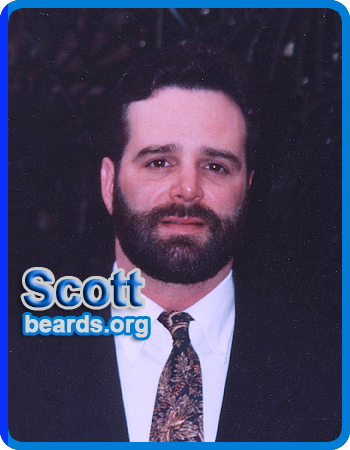 If you forget what you look like without a beard, try going down to a goatee, or a mustache before you shave it all off. Get comfortable with your look for at least a few weeks, and when ready, welcome back an old friend.
When grooming, please be sure to use two mirrors; use a small hand-held mirror when looking into a bathroom or dresser mirror to see what you really look like to other people. You may be surprised and it will highlight any spots that need to be trimmed or allowed to grow in, especially any hair below the jaw line.
I've always used barber's scissors on my beard, without the use of a comb. I simply position the scissors parallel to my face and clip away.
I have a decent chin, but a beard still creates a stronger jaw line and chin. I think this can be a real asset for many men.
My beard grows thickest and the most quickly around the chin and above the lips. Not sure why this is. Notice a lot of guys on this site complain about patches or thin mustaches, etc. Again, be grateful for what you have!
Words of encouragement for those that have expressed dismay at bare patches; there were two large patches on my chin for years, one on either side. As late as my thirties these actually continued to fill in.

The main shift I've seen in my lifetime, and I've had this echoed in the media, is that "in my day", a beard was, of course, a way to look more handsome. But it was also a way to be unique, or at least less common. Maybe you were identifying with famous artists, writers, or even ancient warriors (!).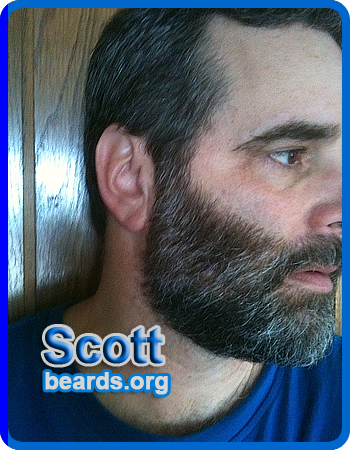 This also seems to be true of many guys on this site. They feel a beard or any facial hair sets them apart from the ordinary.
I have noticed a shift these days for many, often younger men. Today it's often more of a fashion statement; the beard seems to come and go on a whim, not necessarily tied to the seasons either. Whatever works…just a change I've noticed.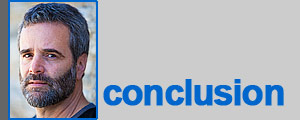 I hope my observations and reflections have given younger guys on this site support to try their first experiments with facial hair and encourage older guys to look back on their history as an integral part of their lives.

Click on the image below to go to Scott's photo album featuring photos from his beards.org photo shoots.