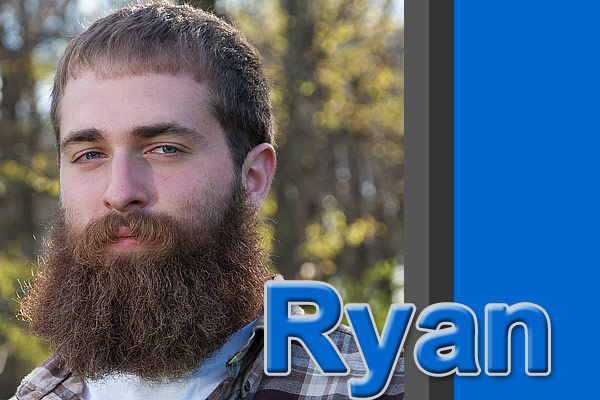 Beards.org is happy to welcome Ryan to the featured beards section. Commenting about his beard, Ryan says that he enjoys when people ask if he shampoos it. Then he typically replies, "You think I should wash it?" He does shampoo it, by the way. Being young and tall with a big full beard, Ryan likes when people try to figure out how old he is. Ryan is a member of the Northeast Ohio Facial Hair Club. At the time that these photos were taken, Ryan's beard was at nearly eight months and 4.5 inches long.
Scroll down to read Ryan's story. Then, be sure to visit Ryan's photo album.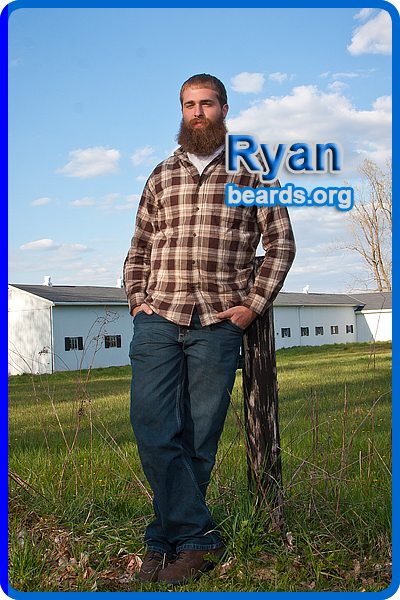 The photos on this page and in Ryan's photo album were provided by Ryan and are used with permission. Photographs of Ryan are by and courtesy of Jon Cole / Envisioned Memories. All photos are subject to the site's conditions of use.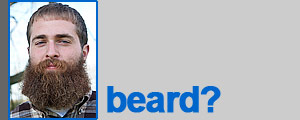 What do you think of beards?

A man who has a beard seems to be respected more than the clean shaven man.
Why do you grow your beard now?

I grow a beard because I can. I do not enjoy shaving daily, therefore, I do not.

Did anyone in your family have a beard before you?

My uncle had a beard for a while. But that is about it.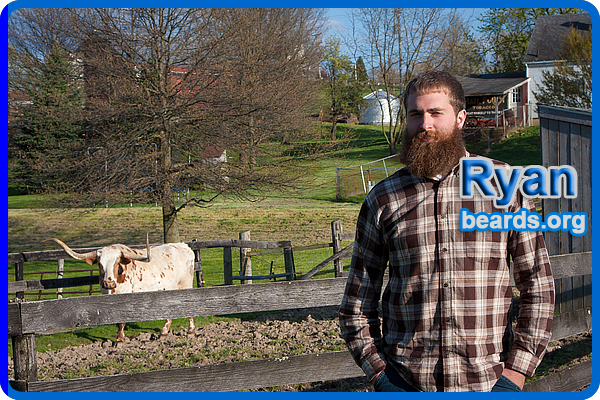 Do you remember from childhood ever wanting to have a beard when you grew up?

I remember one year for Halloween I dressed up as the television character Red Green. I had a fake beard. And ever since then, I think Red Green has inspired me to grow my beard.
Do you remember when your facial hair started to develop? How old were you?

I was in sixth grade when I started shaving.

When did you grow your first beard?

I grew my first beard when I was fifteen. Before my first basketball game during my freshman year, the coach said that I needed to get rid of the Grizzly Adams. He was fired after that year. Then I always had a beard for basketball after that.
How did your first beard turn out?

For a fifteen-year-old…it was awesome!
After the basketball coach made you shave, how long was it before you grew another beard?

After basketball was over in my freshman year, I grew my beard back.
What brought you back to the beard?

Back then, I really did not enjoy shaving and I could grow a good beard. So I figured I'd grow one!

Do you usually keep a beard all the time?

I typically always have a beard. For the last couple of years, I have shaved it off once completely to start over. I'd let it get longer, but never as long as it is now.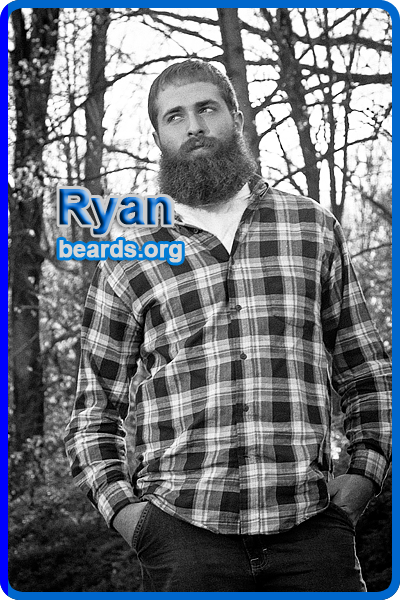 Do you consider yourself a dedicated, permanent beard grower?

I would not say I am a permanent beard grower because I do like to do other things with my facial hair. But after I shave it off once completely, I always start on another beard.
You have a full beard now. Why the full beard?

Least amount of maintenance.
Have you tried any other style of beard?

I have had a chin strap, Amish beard, and goatee. During the summer I usually had kept it trimmed up pretty well.
What are your beard-growing plans?

I plan to shave it off by early June, then possibly start on a "yeard" (a year-long beard).
Has your beard had any effect on your self-confidence or how you see yourself?

Not particularly. I do think I look strange when I do not have my beard.
Do you take a lot of pride in your beard?

Yes. I take much pride in my beard.
Are you sort of famous for being bearded? What's that like for you?

Most people do know me by my beard. They don't know my name, but they know the tall bearded guy! I am 6'6″ (198 cm).
Do you get a lot of reactions to your beard? What are they like?

Yes…especially people that don't see me too often. The best part is when people find out how old I am.
How do you feel about any compliments you get on your beard?

Most compliments I receive are positive. But some people always want me to shave. They are just jealous.
Do you get any criticisms about your beard?

Some people don't like it, Oh well.
Have you ever been pressured to shave off your beard?

Yes. I do not really care that people think I should shave it off.
What do you like best about your beard?

Not having to shave and looking older.
Do you have any complaints about your beard?

I was having trouble eating because my mustache was getting long. I eventually trimmed it some. But other than that, I have no complaints, except for split ends.
What have you learned from your beard-growing experiences?

I can grow a decent beard and it actually grows at a fairly good rate.
Would you recommend to other guys that they grow full beards?

If they are capable of growing one, yes.
To your knowledge, has your beard inspired anyone else to grow a beard?

I think a few people have started growing beards because of mine. But they chickened out when it started itching.
How do you feel about being featured on beards.org?

It feels good knowing that my beard is worthy of being featured on beards.org
What do you think about beards.org?

Glad to see people embracing beard growing!

Click on the image below to go to Ryan's photo album.