All about beards is proud to welcome Valentin to the featured beards section! Valentin is the first to join our featured beards from Siberia. Famous for its cold winters, you might think that beards would be the rule in Siberia. You might have to think again, however.
Valentin and his wife are graduates of the Ural Pedagogical University in Yekaterinburg. For many years they have lived in central Siberia. There, Valentin worked as a German teacher for fourteen years, chief of a travel agency for two years, school principal for twenty years, and Chief Education Officer of his town for four years. He has been enjoying retirement since 2009, but still serves as a private tutor, teaching foreign languages to young students. Valentin's wife is retired now, too. They have a son, daughter, grandson, and granddaughter.
In his free time, Valentin likes to travel by car with family to the forests. They enjoy walking through the trees, picking mushrooms, and finding beautiful places for taking pictures. They also enjoy tent camping at the lakes each summer for a week or more at a time. A favorite destination is the Tus salt lake in the Republic of Khakassia. The water of the lake is so salty that it is possible to lie on the surface effortlessly. They enjoy swimming, sunbathing, walking around the lake, and hiking to other places. In the evenings, they often gather around a campfire and cook shish kebab. The grandchildren enjoy accompanying Valentin and his wife on these trips.
While at home in summer, Valentin works in his vegetable garden. He also makes a point to go walking nearly every day. In the winter, however, he goes skiing.
Scroll down to read Valentin's extraordinary beard story. Then, be sure to visit Valentin's photo album.
The photos on this page and in Valentin's photo album are courtesy of Valentin and are used with permission. All photos are subject to the site's conditions of use.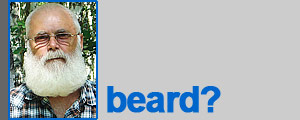 What do you think about beards?

I associate beards with masculinity, strength, ruggedness, confidence, and sexuality. Beards are one of the true expressions of manhood and a natural part of a man's face. Beards are beautiful and look fantastic.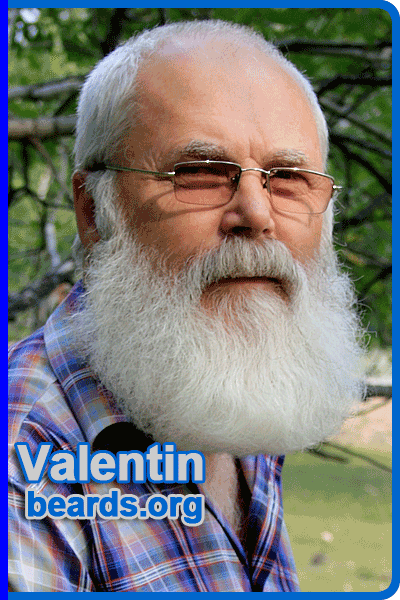 What do you think a beard says about the man who grows one?

When I see a man sporting a beard today, I think that it is a rarity in itself to meet a bearded man. I think that he must be unusual and a bit courageous man if he wears a beard. Growing the beard is the exception today and I ask myself, "Why does he wear his beard? Is it a religious or historical tradition? Is it only his fashion beard? Is he a dedicated permanent beard grower?" Some of us like the well-groomed, short-trimmed, socially-acceptable beard with the right cheek- and neck-line beard. Others prefer a large full beard with natural lines. It can be long or short, with neatly trimmed hair, washed and brushed and well-groomed or have the more wild look. Sometimes we see someone with his beard like he has just gotten out of bed. A beard can say much about the man, it reflects and emphasizes his individuality. It depends also on the man and his beard, its style, look, format. It seems to me that the beard defines a man and the man defines his beard and is tested with it.
Why do you grow your beard now?

I grow it for the simple fact that it makes me look the way I believe a man should look. I don't work now and in this space of time I'm free of my professional duties. This allows me to do what I want. I like the way I look with a beard. I'm glad I'm a bearded man and can grow a pretty full beard.

Did anyone in your family have a beard before you?

Nobody in my family or immediate circle had a beard. I don't think any of the men in my family had influence on me when I grew up.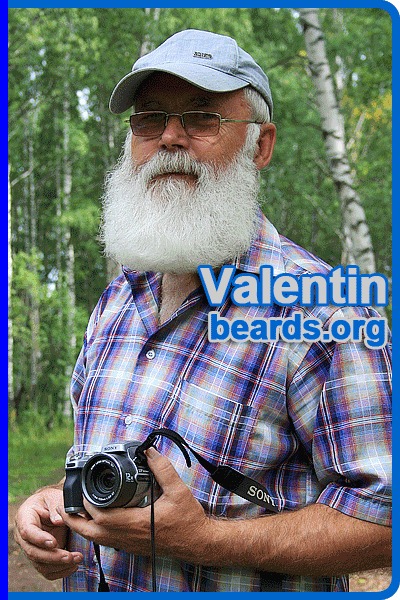 Do you remember from childhood ever wanting to have a beard when you grew up?

When I was eighteen, I had my first barely-perceptible facial hair, but I didn't want to shave it. I thought that beard shaving is connected with the beard growth. If I start to shave my beard, I thought it would grow quickly but I didn't want to have one then. Only at the university, I started to shave and at the same time I began to have an interest in beards more and more.
Do you remember anyone else with a beard who may have served as a role model or otherwise influenced you to want to grow a beard?

During my study at the university, shaving was the norm and growing the beard was the exception. I was intrigued by men sporting beards: famous travelers, scientists, stars of rock music. One day I saw a guy, nearly my age, who had a great large full beard. His thick dark-blond beard was tremendous. And this was not just a picture, but real life. I liked his beard, its size, shape, look and color. I was inspired by it. Why can't I grow a beard or try to let grow one? But I hadn't enough courage to do it and I wasn't able to grow good facial hair at that time. And I made a decision for myself to have some day a beard without fail. It was my dream and I knew what kind of beard I wanted to have.

When did you grow your first beard?

I had been envious of guys who could grow facial hair. So I waited until I could grow a beard. At age twenty-two I was a fourth-year student in the university. In summer during our vacation we worked with the group of students in the gardens of the Crimea and it was a good time and place to attempt growing a beard.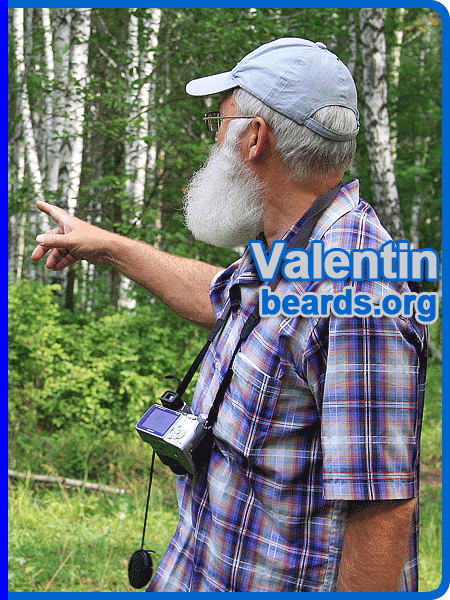 What led you to grow that first beard?

It was an interesting experiment and my first exciting experience because I had never physically been able to grow facial hair before. I grew it to see what nature intended me to look like. I was curious about it. I wanted to test my beard-growing ability.
How did your first beard turn out? What did you think of it?

After some weeks I had a short vacation beard. I admired bearded men and wanted to look like them. At last I was one of them and I was pretty proud of it, even though my experimental beard probably looked sad. It wasn't the beard I had dreamed.
Was your first beard the full beard? If not, when did you grow your first full beard?

It was a full beard. But because of a lack of knowledge, I didn't avoid a lot of common mistakes, I cut down a cheek line too low and a neck line too high.
What was it like seeing yourself with a beard for the first time?

I hoped that I would have a full, dense, thick beard. The facial hair that grew on the sideburns, cheeks, mustache and neck was dense and thick enough. But only a few thin facial hairs grew below the lower lip on the front of the chin. It was thin, patchy, and did not cover the entire area. I didn't like it. However I enjoyed the feel of my first beard.
What happened to your first beard?

I understood I could have a beard. But my dream beard and a real beard were different things at that time. I thought, beards develop and change over the years. In some years I will have what I want. In autumn at the beginning of the last academic year at university, I shaved off my experimental vacation beard.
How long was it before you grew another beard?

A year later, I graduated from university and started working at school as a teacher. In three years I let my long thick sideburns grow and then a mustache. My sunbathed face after the summer holidays had great thick, dark sideburns and mustache. It wasn't far to a little goatee. So the next year, I was the owner of a little goatee. I showed off my new look for the whole year. During that time I noticed that my little goatee became bigger and bigger and the facial hair on the front of the chin and below the lower lip began to cover the entire area. I found out that some of my beard hairs grow faster than others. Only over time, as the slower-growing hairs fill in, can I see how full the beard really is. That was my own experience and I was glad.
What brought you back to the beard?

My earlier decision to some day have a full beard brought me back. It was, as I said, my dream beard. I didn't forget it. I was inspired by it all these years and continued to experiment with my beard.

Would you say that you are a dedicated, permanent beard grower?

I started off as an experimental beard grower, but realized and decided earlier that I wanted to be a permanent beard grower.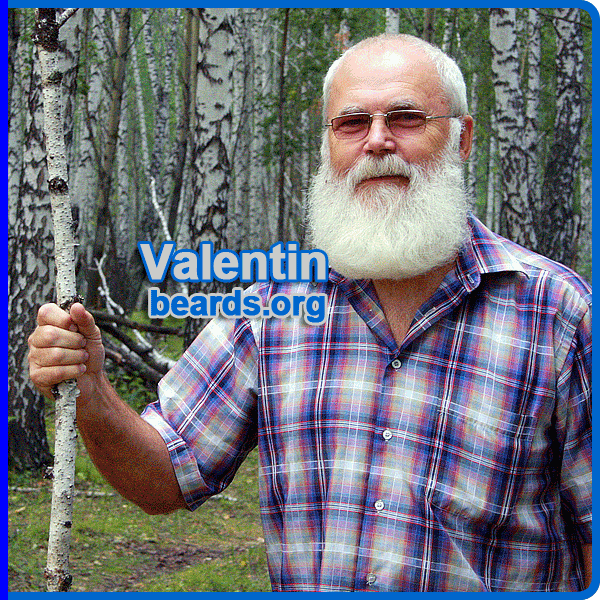 How long have you been a dedicated, permanent beard grower?

Starting in 1980, I worked in a travel agency for three years and had a beard for the entire time. It was at first a goatee, later a full beard. Then I returned to school and as a clean shaven principal and later, a Chief Education Officer. That was the professional appearance of that time. After the restructuring that started in the 1990s in our country, we had a more relaxed standard of corporate appearance. In 1992 I let my beard grow again. For ten years, I was a dedicated, permanent beard grower. I had a short, trimmed, socially-acceptable beard with neck and check line. In the mid-1990s, I noticed my beard turned more gray and white year after year . I didn't like it. At first I trimmed it very short and eventually shaved it off. For a number of years I was beardless. I missed a beard and tried to accept my age-related changes. Then I retired in 2009. My first thought was, "I'm ready to grow a beard again." And I did it that summer.
You have grown the full beard now. How did you choose the full beard?

I was happy and glad to have a beard again. It was not the same beard as before. It was gray and white, but I liked my new appearance. I didn't trim it for some months and my relatives asked me, "Isn't it too large?" I began to doubt and tried to seek advice, to get encouragement. Fortunately I found your wonderful website all about beards. There were a lot of pictures, advice, encouragement, and support here. It helped me resolve my doubts, keep me motivated to grow my beard longer, and find the right way to my large full beard. Now I understand. Having a full beard is undoubtedly the only possible solution without any other alternatives for me. I thoroughly deserved the full beard given my own experience as a dedicated beard grower.
Which other beard styles have you grown? What did you think of them?

My beard has taken many forms, from mustache with large sideburns, a small and a large goatee, and a small full beard to what it is today. I like them all and don't think any of them are worse or better. They helped me to get experience, to choose, and to go to my big full dream beard.
You have said that you are now the happy owner of big full dream beard at last. What is the dream beard for you?

It's true. I'm really happy now to be the owner of big full dream beard. In recent years, I have been retired after forty years working. So I got a chance to have a big full beard. I dreamed of it, as you see, and I have it at last.
What kept you from growing the big full dream beard before?

It was not viewed as professional to wear a large beard here. I couldn't let myself do it and it was the price for my work that I had to pay.
What changed for you, resulting in the growth of your big full dream beard?

At present I have a large gray beard. It doesn't matter that it's gray. I find that my beard is a great accessory to the look and makes me feel comfortable and complete. I like the look. I dreamed of it, that's the main thing.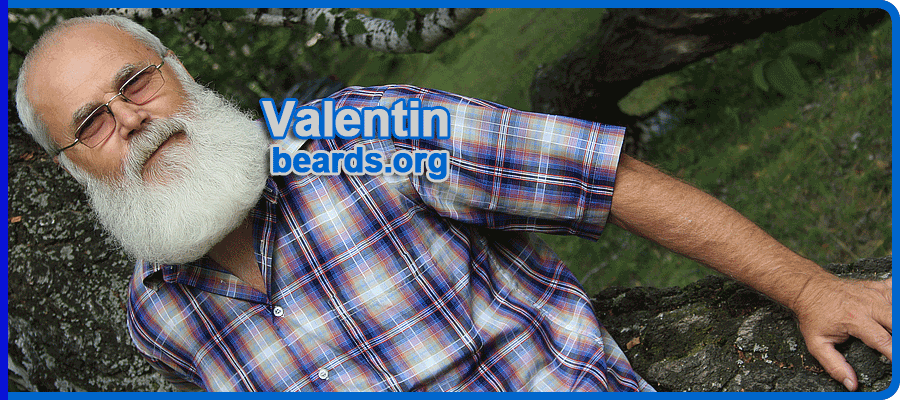 Do you shape and trim the beard yourself?

Yes, I do. I like to look after my beard in order to make it looks as good as possible. I usually trim the ends of the hairs with clippers extra carefully to give shape to the beard. I'm afraid to cut off too much. Sometimes I ask my barber to help me if I can't do anything myself. She does it always very cautiously because a beard trimming is a delicate work for her, too, and it requires professional experience. Today when only a few men are wearing beards, the barbers often can't reinforce their professional skills. It's difficult to find a good beard barber — especially in small towns — who respects beards, respects his clients' wishes, and knows his or her way with a beard trimmer. That's why many bearded men prefer to trim their beards themselves, I think. My barber understands and respects my wishes and is a good source of encouragement and support for me.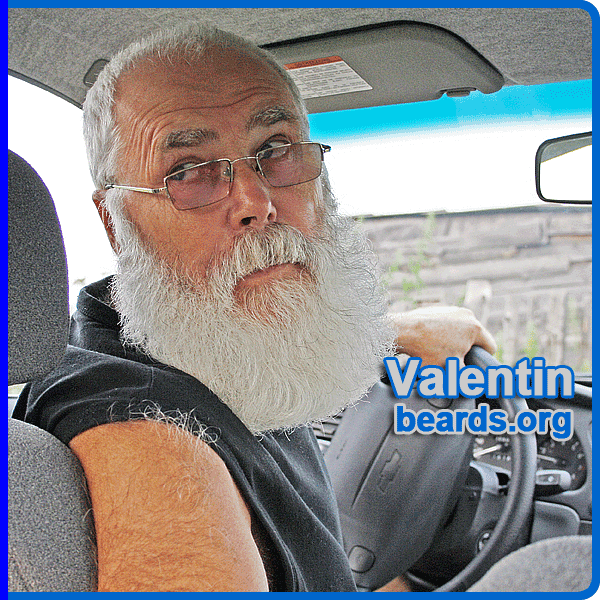 Has your beard had any effect on your self-confidence or how you see yourself?

I have already grown accustomed to my beard and often take no notice of it. But I like the way it looks on me and the way others view me with it. I don't think it helps with my self-confidence a lot.
What do you think of your own beard?

I have a good beard: quite thick, lush, no patches. I like the thickness of it.
Do you ever compare your beard to other beards that you see?

Of course, I do. It's exciting to meet beards that really can impress and inspire me. I check out every beard that I can see. The comparing to other beards is also a bit of experience for me and an opportunity to get new information, to appreciate my beard at its true value. I think mine is above average.
Do you take a lot of pride in your beard?

I'm proud to be a man who grows a beard and the fact that it's full is simply great.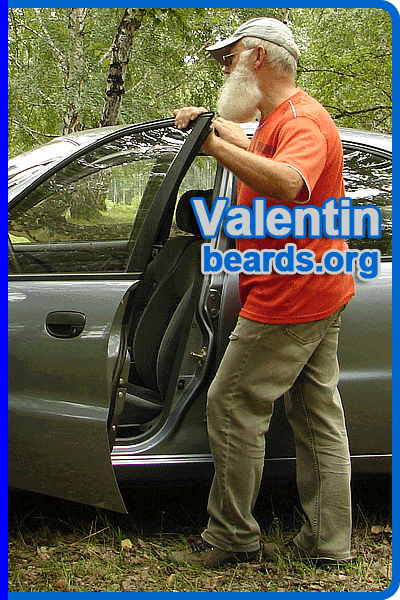 Do you get a lot of reactions to your beard? What are they like?

I've had both bad and good reactions. Usually most comments I receive are positive and they are from my acquaintances that don't see me too often but sometimes they are from the strangers in the street. I can remember some of them:
"With your large beard you look like Karl Marx (or Charles Dickens, Mendeleyev, etc.)"
I answered then, "That's a new interesting comparison for me… I was already Tolstoy, but not Marx. Thank you. I collect the new comparisons."
One day I saw a woman in the street. She came to me and said, "Deep bow to your beard!" Then she bowed before me.
I didn't know how to react to her unusual form of greeting and only said, "Thank you!"
Next time I was greeted again by the same woman, "Deep bow to your beard!"
This time I asked her, "What do you mean by that?"
"I am glad to meet a man with a great beard! I wanted to greet you and your beautiful beard."
Often, the first thing someone says when meeting me is, "Why did you grow such a big beard?"
"I like a large full beard," I respond.
"A beard adds ten years to you and you look old," some say.
"It doesn't matter at all. The main thing is that I have a great beard," I reply.
"It's true your beard is well groomed and it looks awesome," they say after better contemplating my beard.
I also get frequently asked questions such as:
How long/where/why have you been growing your beard?
Is it not hot in summer with it?
How do you sleep with it?
How often do you wash it?
These questions are sometimes a good way to start a conversation. Why not talk about our favorite beards? We are almost professional beard growers. I sometimes recommend the men who are interested in it to read all about beards. Unfortunately, most of them can't read English. One guy met me a second time after our talk about beards.org and said, "Thank you for your beard." I smiled only. Of course he had visited beards.org.
One man turned to his wife and said, "Look at that man's great beard. I'd like to have such a beard. Would it look good on me?" This was beyond praise for me.
Some weeks ago, as I was walking in the evening, one of the guys asked me to present him with some hairs from my beard as he wants to have a beard, but it doesn't grow well for him. Then he asked me if he could touch my beard. If I had a magic beard, I would help that guy.
Last summer I wanted to buy something in the market. I looked at the wares there and suddenly heard a voice behind me, "You have a magnificent beard. Your head hair is straight, but your beard is curly. I always envy the men's beards. I dreamed of a beard all my life." I turned toward the voice and saw a middle-aged man standing near me.
"And what is the problem? Why don't you grow your own magnificent beard?" I asked.
"I tried to grow one," he replied. "It was thin, with patches, and my relatives and acquaintances said that I looked like a gnome."
"And how long did you grow it? A week or two? Don't shave it at all for a month or more if you want to see your beard."
"But my wife is against a beard…"
"Many women hate beards. It must be your decision. Okay, next time I come here to the market, I'd like to see your beard and we'll talk about it then." In a month or more I went to the market to see the man with his new beard. I didn't see the man who wanted to have a magnificent beard. I went to the market many times after that. I always see there only the working woman who hates bearded men.
The children in the street, when they see me, say sometimes to each other or to their parents, "Look, Grandfather Frost/Santa Claus is coming!"
These are some of the simple reactions, dialogues, and talks I sometimes have with acquaintances or just random strangers. I understand those who want to discuss the problem they are interested in. Who they can talk to about beards if not with us, the beard growers? I must be ready to face up to such reactions.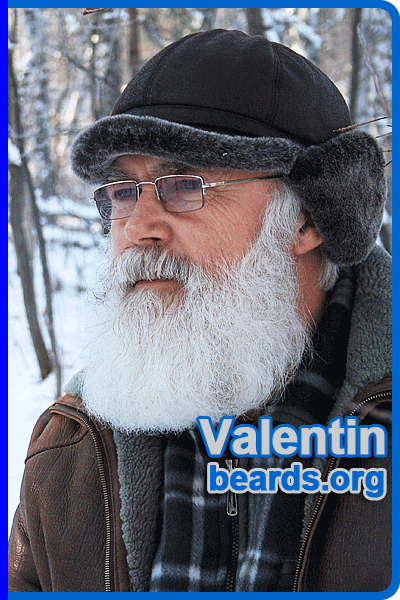 How do you feel about any compliments you get on your beard?

I'm glad that some people like my beard and they want to speak with me about it. It means it looks great and gets recognition.
If you get any negative comments about your beard, how do you respond?

Not too often do I get negative comments and I almost never get a direct criticism. If I do, it is from some women. Most of them want to see me clean shaven, neatly trimmed, and neatly dressed. And there is nothing bad about it. One of them said, "You know, all the women of our town are against your beard."
There was nothing else for me to say but to tell her, "Have you made already a survey in the town? By the way, I have a woman." Most of my family, relatives and acquaintances have already gotten accustomed to my appearance and have no more comments about my beard.
Do your friends and family like your big full beard?

My wife and daughter don't like it, or at least they prefer it not so long and big. They want me to have a short, neatly-trimmed beard. But my son and especially grandchildren like the grandpa's beard.
What do you like best about your beard?

I like that it's thick, lush, and full enough.
Do you have any complaints about your beard?

I wanted to have more control over the way my beard lies against my face and chin. Some curls of the beard are unruly because of the length, especially in the area of neck, and it's difficult sometimes to control them. Sometimes I wish it were a little less curly. But curly or kinkier beard hair can also lie against the face and chin.
How would you describe the way your beard has changed over the years?

It has changed over the years, of course, from the thick mustache with large long sideburns, into a small and a large goatee. Then I had many years of a small, full, neatly-trimmed beard with cheek and neck line. Over years the cheek line turned into natural line. The full big beard, that it is today, has natural lines on the cheeks and neck. I shave off only outlying hairs on my cheeks. I find something free, wild, and masculine about a full beard.
What have you learned from your beard-growing experiences?

A beard is not a wild grass in the field. It is rather a well-mowed and groomed lawn. It's harder than just not shaving. Growing a beard takes a lot of determination and patience. I made the decision to grow a beard and went through serious doubts and complications to reach my beard goal. Maintenance of a beard is not simple thing. It is not only my pride but is also a daily commitment. I tried to find my own beard style on the basis of my natural potential. My beard today is a consequence of my conscious decisions and experience. That means I am a happy owner of the big dream beard.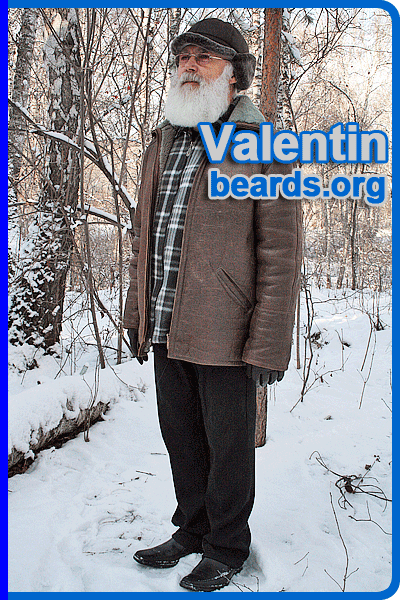 What are your plans for your beard?

I want to keep it for the foreseeable future. So I'll stay with a big full beard.
How are beards viewed in your town or region?

There only a few men who are dedicated, permanent beard growers in our town. We have known them for years and run into them anywhere in town. Very seldom it is possible to see new bearded men in the street. The same situation prevails in our region, I suppose.
Are beards common there? What about full beards?

The more common beards are trimmed short. They are more socially adapted. But you can see also big full beards or other different styles. There are some remote Russian Old Believers' villages in our region. All the men in these villages never shave or trim their beards during their entire lives. Young and old men have long beards there. In their society it is a norm. Some of them have really tremendous beards and others have beards that often look scraggly. It depends on each man's their natural beard-growing potential. That's why I may hear, "You have a beard as large as that of an Old Believer!" or "Are you an Old Believer with that big full beard?"
Why do you think more men do not grow their beards?

I've already said that a beard isn't the grass in the meadow. It takes a lot of determination, patience, and maintenance. Growing a beard can be more difficult than the morning shaving with electric beard trimmer. I know some men who started to sport a beard, but they shaved it off after the first difficulties.
Would you recommend to other guys that they grow full beards?

I certainly would. If you can grow a beard, then go on and grow one! I would be glad to know if I could in any way encourage anyone to grow or maintain a beard with my story and photos.
Do you know if your beard has inspired anyone else to grow a beard?

Some of the guys were inspired, but they didn't have enough courage to grow a beard. I can also say they weren't sufficiently inspired and are too lazy to have a beard.
What does being featured on beards.org mean to you?

I think it's a great honor. I've discovered beards.org only this year. I have eagerly plunged into the reading of materials on the site, looked at the photos, compared my beard to many of the other beards that I saw here. I simply could not imagine that I could receive the invitation to do a beard feature. I was glad to know that my beard is worthy of being featured on beards.org. I do it with great pleasure to be useful, to help Steven in his hard work to make beards.org. informative, interesting and useful for us, thousands of visitors. I'd like to hope that my beard feature will be a useful addition to beards.org!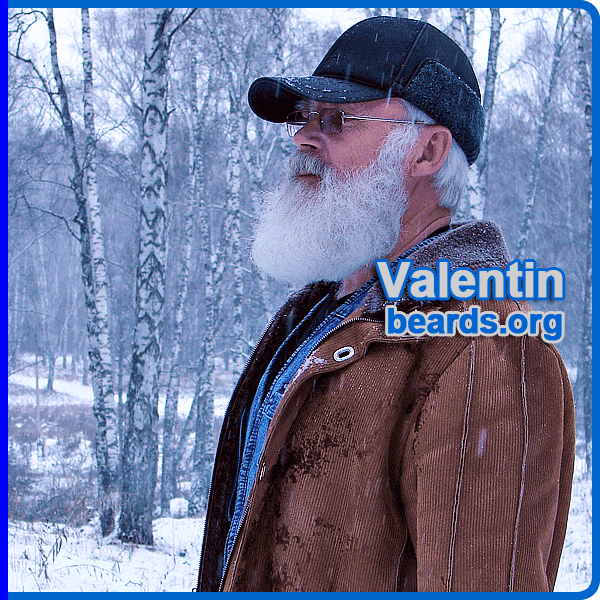 What do you think about beards.org?

I am still surprised what a remarkable site it is. I continue to read with great pleasure and admiration through the sections of the site about maintaining and grooming the beard.
Beards.org has a lot of information and rich experience during nearly-seventeen years. It is in a constant development as it regularly fills up with new photos and interviews. It is really an original guide for those who want to receive practical advice on beard grooming.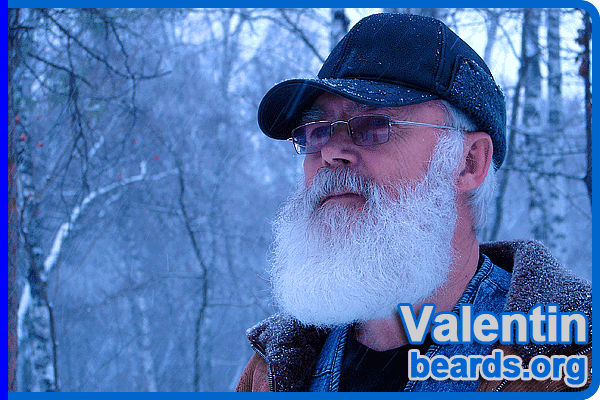 The photo shoots are always made at high quality with useful details. It is possible to watch the step-by-step process of growing of a beard and its grooming. Looking at the photos, many of us receive additional inspiration, encouragement, and support to grow a beard.
The reading of illustrated beard stories and essays, the exciting featured beard interviews are interesting and useful. All about beards is a great help for everybody who wants to know more on the subject.

Click on the image below to go to Valentin's photo album.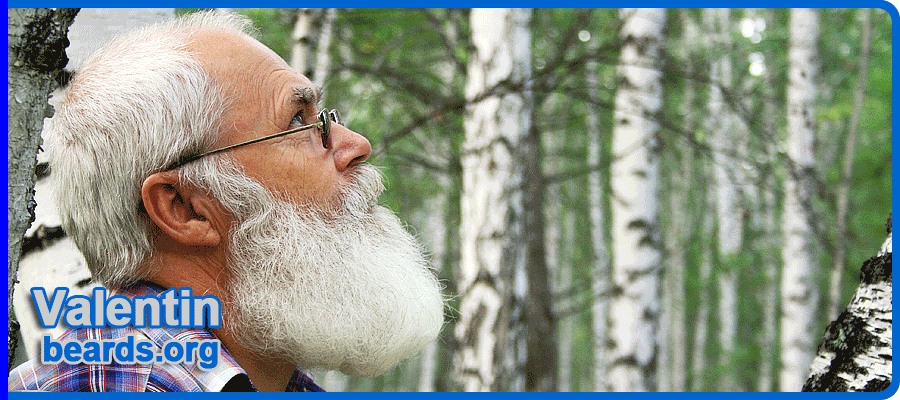 Also see Valentin: Continuously Bearded For More Than Ten Years.