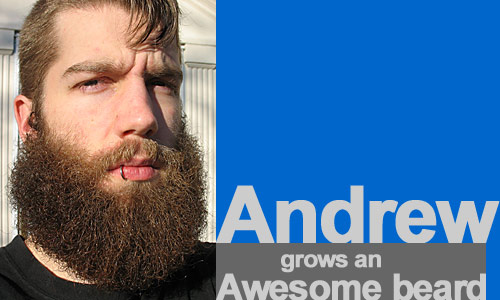 Twenty-year-old Andrew is bold and does not hesitate when it comes to growing an awesome, prodigious beard. Actually, growing an amazing, big beard is easy for Andrew. Read his story below. Then be sure to visit Andrew's photo album. Andrew's beard is seen in his photo album as it appeared in 2006 before he shaved it in late December. Before the end of the month, however, he started it growing again. Later photos in his album illustrate the growing progress of his new beard as it started near the end of December and as it continued in 2007.

Did you ever want to grow a beard before you were old enough to grow one? If so, do you remember at what age you were when you first knew that you someday wanted to grow a beard?

I didn't really think about growing a beard too much. I just knew it didn't come in full, so I didn't worry about it.
Did any family members, other relatives, or friends or acquaintances have a beard when you were growing up? If so, did that have any influence on you?

My father has a beard. His is short and well groomed. But that didn't really influence my decision to start growing.

What motivated you to grow your beard for the first time?

I just kind of got lazy one day and stopped shaving… Then one month passed by, then two, then three, and so on…
How did you feel about the way that your first beard turned out?

I was impressed with myself. I started my first one when I was seventeen. It was short and sweet. When I was eighteen, I trimmed it back after about three months…then grew it out for seven months after that.
You've grown the full beard. How did you select that style? What's your opinion on the full beard versus other beard styles? Have you ever grown any other beard style, such as the goatee?

I did the full beard mainly because no one else could and I just basically didn't feel like shaving. At first I kept it trimmed up pretty nice, but when it started growing out, I just stopped shaving altogether. Regarding other styles, I have had sideburns for just about the whole time that I had developed facial hair. I also grew a chin goatee for halloween one year where I went as Shaggy from Scooby Doo.

Has your full beard had any effect on your self-confidence or how you see yourself? Has it had any other effect on your personality?

I thought the beard looked awesome on me. I made more friends while I was growing the beard than I have in a long time. I'm still the same person, with or without facial hair. It didn't really affect my self-confidence too much; there were some things where it didn't seem like girls would be interested in me because of it, but that didn't bother me too much.
How have people reacted to your beard?

Most of my guy friends loved it and most of my female friends hated it. Occasionally, I'd get compliments from complete strangers.
Have you thought about whether you intend to stay bearded permanently or just occasionally?

Let's just say I think I'm going to be clean shaven occasionally.
Would you recommend to other guys your age to grow full beards?

If they can do it, I say go for it. It's totally up to them. I don't really care what they do.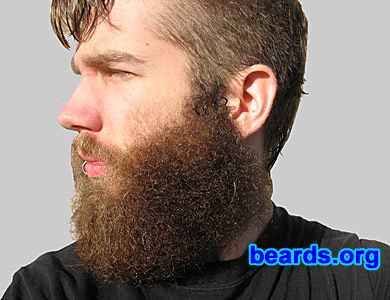 Click on the image to go to Andrew's photo album.

---
Next featured beard:

Previous featured beard: