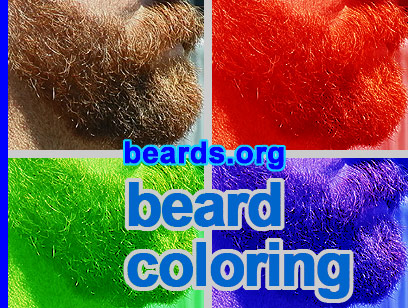 Kevin kindly volunteered to share his beard-coloring experience below, including before and after photos. The photos of Kevin on this page and in Kevin's photo album were provided by Kevin and are used with permission. All photos are subject to the site's conditions of use.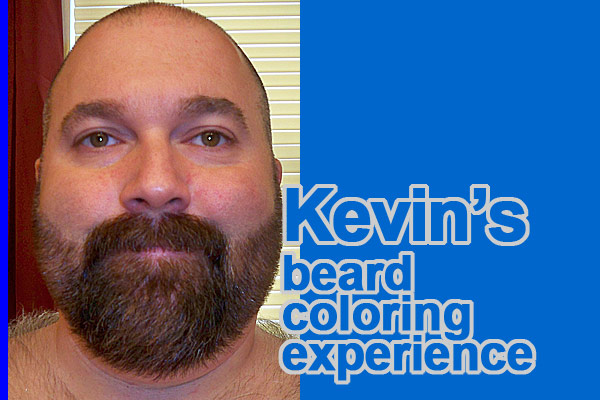 Important reminder: If you choose to color your beard, be sure to follow ALL safety instructions for the coloring product.
I started coloring my beard at the age of thirty-two. I was getting stressed over having a graying beard.
While shopping in the shaving aisle, I came across a beard-coloring product called Just for Men. I was amazed at the selection of colors and the promise of covering my graying beard. I knew I had to try it.
The hardest part of coloring my beard, was finding the right shade. Just for Men comes in everything from blonde to black. Having dark brown hair, I chose the dark brown shade. After I completed the coloring and my beard dried, I was shocked at how dark the color was.
My first reaction was that my beard looked fake. Most beards are not a solid color. Mine has blonde, red, brown, and even some black. After the coloring, my beard was all dark brown. My sister even commented on how stupid it looked. After three weeks, the color was almost all washed out and the gray was back.
The next week, I was on vacation. I thought I would try coloring again. This time I chose a lighter color, medium brown. This was the ticket. My gray was easily changed. I still had the different shades of color that kept my beard looking natural.
Fast forward to today. I am now thirty-eight years old with lots more gray. My beard is almost seventy percent gray and my head is graying as well. My photos will take you on the journey of starting a new beard with added color.
NOTE: YOU HAVE TO BE COMMITTED TO THIS OR DON'T START IT!!!
The first step is to let your beard grow for about a week. After you have some growth, it will give the color gel some hair to cling to. I recommend that you choose a shade that is one or two shades lighter than your hair color. You can always go darker later. Remember to keep track of your timing while coloring. Depending on your hair type, you may need to leave product on longer next time for better coverage.
Before starting the coloring process, read the directions carefully. You will want to wear an old shirt or no shirt for this proccess. BE CAREFUL…not to splatter gel. The coloring will stain your skin, fabric, walls, and sink. You will also need to be careful of getting gel on your face, ears, and neck. This will expose your new secret.
After you have followed the directions for application, I recommend showering and washing your beard with any shampoo for colored hair. This will help the color last longer. After showering, brush and trim your beard as normal.
Keeping your beard colored will vary from man to man. This will depend on thickness and growth speed of your beard. It is harder to color if you keep your beard very short. Medium to long growth is easier to color. For example, as your beard is growing in, it will require more attention and coloring product. As the beard grows thicker and longer, you will spend less time on this.
Currently I am coloring once a week. I am now at the point where I can just touch up spots where the color has grown out. I am also just covering roots at this point. As a man with fast hair growth, I have to touch up my color around my beard's edges once a week. As you do this more, it gets faster and becomes less of a pain.
Remember, you have to be committed to this. If you stop coloring, you will be gray within a month. The color does wash out over time. I have decided to color until I turn forty. I will then let nature take its course.
Just for Men does make a product for keeping some gray. I have never used it, but would expect it to work just as well. I have also used regular hair coloring instead of Just for Men. It works well, but I now live with a crew cut or shaved head. NO MORE GRAY!!!!! Just for Men also works on body hair. I colored my chest hair once. It was not worth the mess.
I hope you have found this informative and useful. Have fun with your color. You are only limited by your imagination. I hope to see some colorful photos on beards.org as you go on your journey.
— Kevin

Visit Kevin's photo album.
All about beards is a participant in the Amazon Services LLC Associates Program, an affiliate advertising program designed to provide a means for sites to earn advertising fees by advertising and linking to amazon.com.