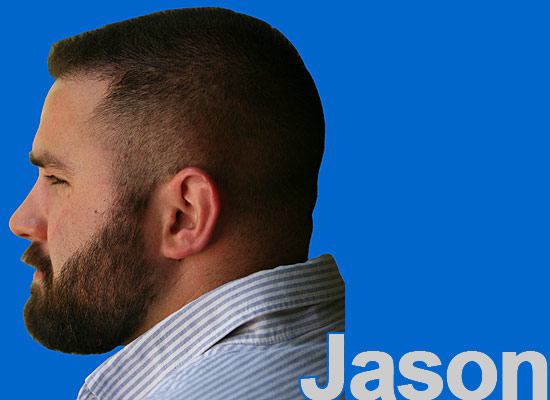 all about beards is especially pleased to present Jason in our featured beards section. Jason kindly agreed to be featured on the site. His beard feature and photo album are illustrated with photos taken during a photo shoot exclusively for beards.org. More photos from that photo shoot will be added in further updates. All photos are subject to the site's conditions of use.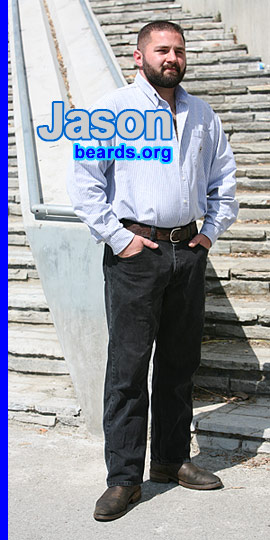 Scroll down to read the story of Jason's excellent beard. Also, be sure to visit Jason's photo album.


What do you think of beards?

A man who grows a beard shows self confidence. It takes a lot of dedication to stick to it, because most people (friends, relatives, co-workers) give us guys such a hard time, telling us shave it during the first few weeks.
Why do you grow your beard now?

I grow my beard now because it is a part of me, like the hair on my head. I really feel naked without it.


Did you ever want to grow a beard before you were old enough to grow one? If so, do you remember at how old you were when you first knew that you someday wanted to grow a beard?

For as long as I can remember, I knew I wanted a beard. I just hoped that I could grow a full one.

Did any family members, other relatives, or friends or acquaintances have a beard when you were growing up? If so, did that have any influence on you?

As I grew up I had many relatives — uncles, father, stepfather — who all had beards at some time. I always respected them and saw them as masculine role models that I wanted to be like.

What motivated you to grow your beard for the first time?

Nothing really motivated me. It just started growing. I think I was one of the first kids at school to start growing facial hair.
How did you feel about the way that your first beard turned out?

I loved the way my first beard turned out. I guess I knew right then that it was here to stay.
You've grown the full beard. How did you select that style? What's your opinion on the full beard versus other beard styles? Have you ever grown any other beard style, such as the goatee?

I actually change my beard quite often. Sometimes I shave it to a full version of the goatee/mustache, changing to different lengths and styles, but always end up growing the full beard in the end.


Has your full beard had any effect on your self-confidence or how you see yourself? Has it had any other effect on your personality?

I definitely feel more confident with my beard. For some reason, it seems to make people respect you more. Men love it. Women love it. I can't see why all men don't grow one.
How have people reacted to your beard?

I've always had a positive reaction to my beard, no really shocking stories. I guess that's because most people have always seen me with one.
Have you thought about whether you intend to stay bearded permanently or just occasionally?

I will always have some form of a beard. My mood and the weather always dictate length and style.
What's the best thing about having a beard?

The best part of having a beard is how I watch friends and co-workers start to try to grow their own beards. I will start a new job or meet someone and, all of a sudden, notice them starting to grow a beard. They usually end up after a few days to weeks. It makes me feel really confident knowing that others like it enough to try to grow their own.
What do you like best about your beard?

I like the fact that I can grow one so quickly. I can go from clean shaven to full beard in under two weeks.
Would you recommend to other guys that they grow full beards?

My advice to anyone who wants to grow a beard is to give it a shot. It takes dedication and some guts to do it. But, in the end, I think that most men are happy with the results
What do you think about being featured on beards.org?

I was flattered and honored to be asked to be featured on  beards.org. Just before Steve approached me, I was actually sitting down to dinner outside of a restaurant with a friend. During dinner conversation, my friend had just finished saying how he could not grow a beard and that he didn't really like the way it looked anyway (typical of someone who can't grow one). He even said that I
would look better without one. As we were leaving, Steve approached me and said, "I just have to say that you have a great beard. Would you be on my web site?" I don't think I have ever had a bigger smile on my face. After going home and viewing the site, I told him right away that I would be honored to be included.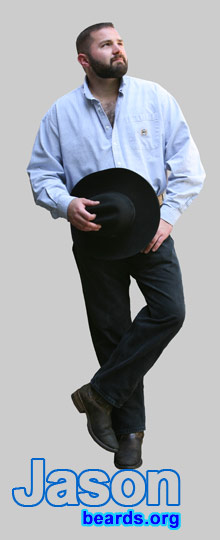 Click on the image above to go to Jason's photo album.
---
Next featured beard:

Previous featured beard: