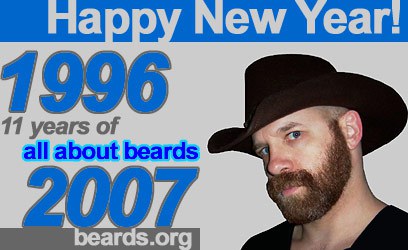 Happy New Year to all from all about beards!
Later this month, the site will mark its eleventh anniversary on the web. That's eleven years of helping and encouraging men all over the world to grow their beards. And we're just getting started.
Beards have been gaining momentum in recent years. Let's keep it up! The start of a new year is a great time to start growing a new beard. If you've got a beard to grow, head over to the growing a beard page and start growing! Know someone else who has a beard to grow? Send him to the growing a beard page, too, with lots of encouragement. May 2007 be the best year for beards yet! Happy bearded new year!