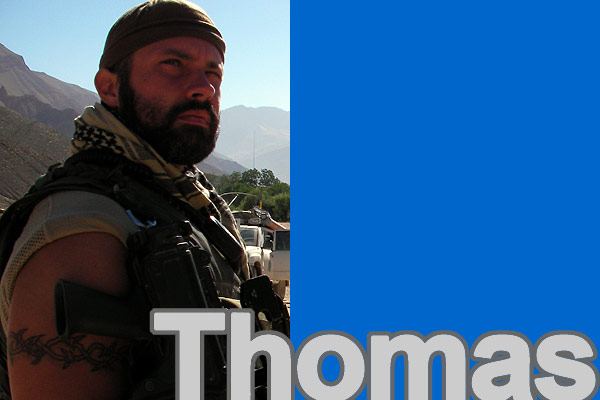 all about beards is pleased to present Thomas in our featured beards section. This page and Thomas' photo album are illustrated with photos provided by Thomas that are used with permission. All photos are subject to the site's conditions of use.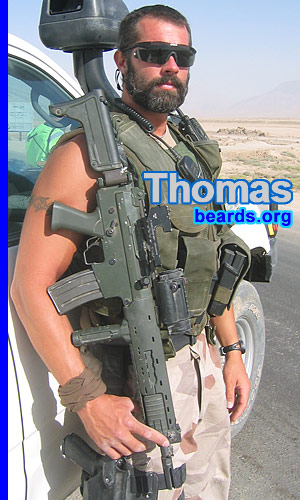 Scroll down to read the story of Thomas' awe-inspiring beard. Also, be sure to visit Thomas' photo album.

What do you think of beards?

I think beards are cool and they makes you feel more adult. I also think that they bring respect.
You grew your beard while in Afghanistan. Why did you decide to grow your beard there?

One of the reasons was that we spent a lot of time out in the bush and it also gave more respect when we where talking to the locals.
Did many of your compatriots also grow their beards while there?

In my squad, we were five guys and one girl and all of the guys either had beards or mustache.
Did being bearded make a noticeable difference in how you were viewed by the local people? Did they appreciate that you had grown your beard?

A lot of respect was in the beard because it's part of their religion. All the men I talked to appreciated my beard.
Was this the first time that you had grown your beard? If not, please describe your first beard and any other previous beard-growing experiences.

My first was a goatee, but without the mustache. After that, I have had a lot of different types of beards.
Why do you grow your beard now?

Because I don't like to shave. I have to shave every day if I want to keep my face smooth.

Did you ever want to grow a beard before you were old enough to grow one?

No.
Did any family members, other relatives, or friends or acquaintances have a beard when you were growing up?
If so, did that have any influence on you?

My father has a goatee and I have never seen him with out it. My uncle has had a full beard for as long as I can remember.

You've grown the full beard. How did you select that style? What's your opinion on the full beard versus other beard styles?

It was easy. I wanted a big beard and I think that if you are growing a beard, you might as well grow a real beard and not a sissy beard.

Has your full beard had any effect on your self-confidence or how you see yourself? Has it had any other effect on your personality?

I feel like people give more respect and I feel more manly.
Back home how do people react to your beard?

Most of my friends thought it was cool and they really liked it.
Have you thought about whether you intend to stay bearded permanently or just occasionally?

I haven't decided yet.
What's the best thing about having a beard?

I have something to play with when I am relaxing.
What do you like best about your beard?

That it is thick.
What have you learned from your beard-growing experience?

It takes a lot of patience and time before it stops itching.
Would you recommend to other guys that they grow full beards?

Of course.
What do you think about being featured on beards.org?

I think it is very great that a small-town guy like me is displayed on your page.

Click on the image below to go to Thomas' photo album.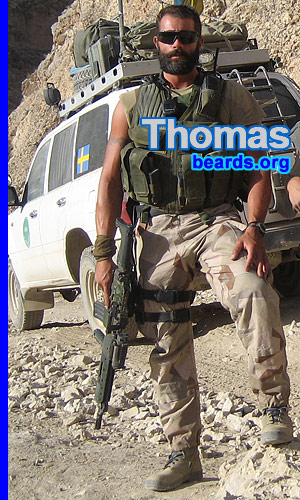 ---
Next featured beard:

Previous featured beard: