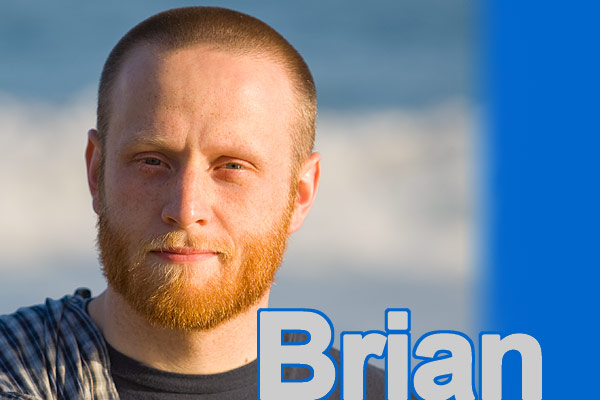 Brian comes to the featured beards section from the state of Georgia. He was born and raised in the Peach State and still calls it home. A classically-trained musician, Brian holds a Bachelor of Music Education degree. Brian has played string bass for sixteen years and would love to make a career out of performance. Meanwhile, he plays occasional gigs and works in information technology. He says that he is a Mac geek at heart, but works with PCs in his job.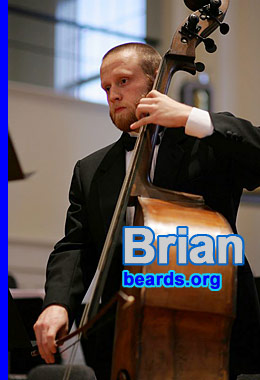 Brian loves video games based on strategy or role-playing. He enjoys going to what he calls "geeky" conventions such as Dragoncon, Anime Weekend Atlanta, The Renaissance Festival, etc. Although he says it may sound silly, he's always wanted to be a professional stunt car driver, too. When it comes to sports and other games, Brian likes volleyball, bowling, frisbee, and pool. Regarding
food, Brian says, "I love Italian food, Açaí smoothies, and bison burgers from the Vortex…YUMMY!" He has recently been learning to dance the two-step. Brian says that he's not really a fan of country music, but enjoys the social interaction and meeting new people.
all about beards is pleased to present the story of Brian's brilliant beard in our featured beards section. Also, be sure to visit Brian's photo album.
The photos on this page and in Brian's photo album were provided by Brian or were taken during a beards.org photo shoot and are used with permission. All photos are subject to the site's
conditions of use.

What do you think of beards?

I think beards are a great form of self expression — a good one will always catch my eye. I have gone through almost all combinations of facial hair that are standard. If I were able to match each side better, I would do some more interesting things… but I always mess up somehow and get frustrated. I love a full beard, but I've never been a fan of the excessive mustaches — probably because of the hindrance to eating. I love food and I don't need a mustache obstacle course every time I want to eat!
Why do you grow your beard now?

I feel naked without a beard or at least some form of facial hair. It is also a natural barrier against the cold. It is nice to have a full beard during the winter seasons. I also keep my beard so that I don't look underage.

Did you ever want to grow a beard before you were old enough to grow one? If so, do you remember how old you were when you first knew that you someday wanted to grow a beard?

Facial hair wasn't something I thought about when I was a kid. The first time it was brought to my attention was in fifth grade. We had some multi-class discussion with a male teacher, specifically for the male students, to let us know we were going to be experiencing some changes in the next few years. When he mentioned chest hair and beards, I kind of wished to myself that I wouldn't have to deal with it. Boy, did that backfire…ha ha. But once I actually started growing facial hair, I kind of stuck with it. It was interesting having bright red hair — "peach fuzz" as my eighth grade math teacher called it — on most of my face. My mustache took a year or two later to start really growing to complete the full beard. So from around thirteen years old I've had a beard of some sort.
Did any family members, other relatives, or friends or acquaintances have a beard when you were growing up? If so, did that have any influence on you?

I know my dad had a mustache and maybe some form of beard as I grew up. I remember because, when he cut it off, it was a shock to see my dad look different than normal. It may have subconsciously persuaded me to grow mine, but I wasn't trying to emulate anyone by growing mine out.

What motivated you to grow your beard for the first time? How old were you? Did you ever feel shy or self-conscious about being one of the few students in your high school to grow a beard?
Or did you feel confident, proud, or even courageous?

I grew my beard originally because I could. My mom asked me if I wanted to go buy an electric razor to start shaving and I told
her, "no way!" I was around thirteen years old. Of course, I was a bit self-conscious. I was already kind of weird anyway by
still having a "rat tail" (long hair) . I got so much abuse for that thing. It had so gone out of style like five years prior.
With as much teasing as I got, it was hard to feel confident and proud. But I stood my ground and probably said something juvenile
in my defense.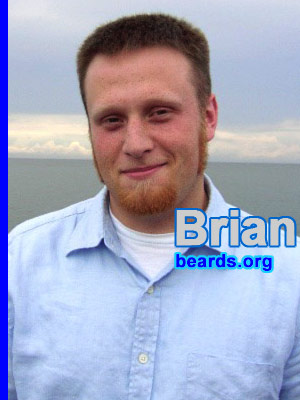 As a bearded high school student, how did you feel about being nicknamed "Teen Wolf", "Wolf Man", "Grizzly Adams", etc.?

I hated it! I almost dreaded walking through the halls to go to class. The inevitable imitation howl was imminent — always from the "popular" guys who thought they were being oh, so cool. Occasionally I'd ask, "Did your mom teach you that?" and they'd push me or ball their fist up like they were going to hit me to bask in their manliness. Fortunately, I never fell or got hit.
I was also growing my hair out through high school. By the time I graduated, it was halfway down my back, which my mother HATED. Long hair + red beard + tie-dye tee shirt + orchestra dork = a surefire way to get negative attention in high school.
What did your parents think about your growing a beard in high school?

My dad seemed mostly apathetic, while my mother was more ambivalent — randomly hinting at shaving. Of course I wound up getting an electric trimmer so that I could at least make it look nice for my mom sometimes. And, of course, the dreaded accidents while learning how to sculpt a beard caused me to shave most or all of it occasionally.
How did you feel about the way that your first beard turned out?

I thought it was great. There was only one other kid in high school who had a seemingly fuller beard than me because of the darkness of his hair. Too bad we were in different grades and I never got to know him.
You've grown the full beard. How did you select that style? What's your opinion on the full beard versus other beard styles?

The full beard is the easiest for me. I have nice, consistent hair growth to work with, so maintaining it is simple. It makes for interesting conversation when people actually take a few seconds to look at it because I have multiple colors of hair in such close proximity to each other. I like having big chops and a goatee, too. I guess I'm just lazy right now!

Have you remained bearded in one way or another continuously since high school?

Aside from a few mistakes, two or three requests from people, and the occasional job-interview shave (I hate those the worst), I always have sideburns, a goatee, or a full beard. It has become a part of me. As I've said before, I feel naked without any.
Has your full beard had any effect on your self-confidence or how you see yourself? Has it had any other effect on your personality?

It definitely helps me feel comfortable and it's fun to have! I suppose it has a slight masculinizing effect — a separation of man from boy, I suppose.
How do people react to your beard?

Most people's first reactions are "oooh, red head." Then I kind of think to my self, "no, red BEARD!" A lot of people want to touch it. Then they like it because it is softer than expected for a beard, I guess. Some of my better friends call me Sven, "Red Beard, The Pirate"…AAARRRRRRRR, MATEY! I was slightly offended at first, but if they were going to have fun with it, I was, too. Also, while I was in college, I had a long goatee (probably three to four inches long) that I bleached blonde. Then I then dyed it blue a few days later. Boy, that got a lot of attention and some funny looks! That was the only time I've ever dyed any of my hair. Other reactions that are common are:
"I love your red hair!"
"Do you dye your beard red?"
"You should dye all your hair the same color."
"You'd be cute if I could see your face."
"How long did that take to grow out?"
"Woof" or "Grrr".
"Does that itch?"
"You need to shave."
"I hope you wash that."
All in all, I get a combination of positive, negative, and curious reactions.
What led to your decision to become a "dedicated, permanent beard grower"?

I love my beard and it loves me. And one day I will find someone who loves it and me, too.
What's the best thing about having a beard?

I don't have to shave!!! My skin has never been very resilient to primitive shaving techniques. So I always dread the razor.
What do you like best about your beard? Do you take a lot of pride in your beard?

I like that it's bright red with some darker reds and browns in the neck area while my mustache and soul patch are blonde. I also love the way it feels. I think I have a very unique beard because of its color and texture and I'm glad to give it a chance to shine.
What have you learned from your beard-growing experience?

I've learned to think twice before trying to make something cool out of my beard. I've also learned that beards deserve conditioner, too. Oh, and don't wear metal-snap button-up shirts…the ones that aren't buttoned will snatch on to your beard and hurt like crazy. Also, never ever compliment a woman on her mustache, goatee, or sideburns…
Would you recommend to other guys that they grow full beards?

Every guy who can grow facial hair should do it at some point. I know some guys just can't grow a full beard (sorry!), but they should grow out what they can and sport it to the best of their ability. I think the professional standard should no longer be clean shaven. Let's go back to our roots and grow our beards proudly.
What do you think about being featured on beards.org?

I think it's totally awesome! I've been looking at the site now for a while and finally decided to post a few photos. Then, to my surprise, this opportunity was offered! I hope everyone else can enjoy my beard as much as I do.

Click on the image below to go to Brian's photo album.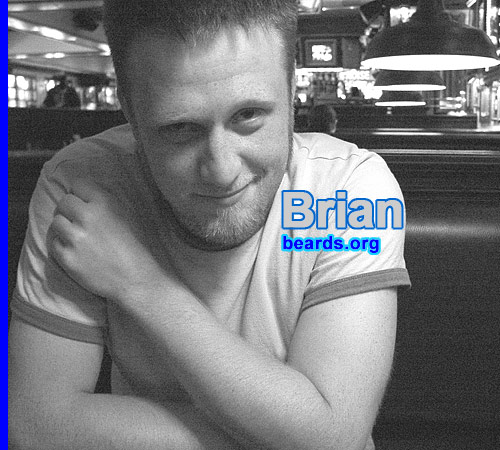 ---
Next featured beard:

Previous featured beard: