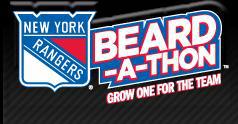 Support the team and grow a beard!  In addition, you'll be helping out a children's charity:  Garden of Dreams.
Join today!  Click on the image above to visit the site and check it out.  Visit often to check out the beard progress and rate the beards!
Tell all your friends.  Have them join up, too!   Now get growing!
UPDATE: Beard-A-Thon links are out of service and have been removed from the post.